Welcome to the THS Edward C. Picken Troy High School Athletic Hall of Fame!

NOTE: This website was constructed in 2000 for informational purposes.
Permission is hereby granted to copy the information. Photos are not for re-distribution.

The Edward C. Picken Athletic Hall of Fame has been established to honor Ed Picken, a former Coach, Athletic Director, and Teacher who spent 40 years at Troy High School. Mr. Picken throughout his teaching career was dedicated to the pursuit of excellence for all his students and athletes. His reputation as teacher and coach is reflected on this page.
Ed Picken was born in 1907 in New Jersey and became a member of the Troy High School faculty upon his graduation from Dartmouth College. While at Dartmouth, Ed followed in the footsteps of his brother, Jim, who also majored in history and excelled in baseball. Six years later, Ed, upon graduation from Dartmouth, again followed his brother and replaced him at Troy High School as history teacher, baseball, and basketball coach. During his tenure at Troy High, Ed was instrumental in reinstating the football program which had been disbanded a number of years earlier because of a tragic injury. During his 40 years as teacher and coach at Troy High School, Ed Picken was as successful in the classroom as he was on the athletic field. His teams and his style of coaching set an example throughout the Capital District. He was a student and a teacher of each of the sports that he coached. His transitional style of offense and his pressing defenses in basketball were well ahead of his time. His dedication to the work ethic was exemplified by the fact he was absent from work only once in 40 years. Picken also was a charter member of the Capital District Board of Football Officials and the ECAC College Football Officials. He was a member of the Section II Basketball Rules Committee and officer in New York State Public High School Athletic Association. He mentored many young aspiring officials throughout the years, such as John Soffey, current NCAA football official.
Ed retired from Troy High School at the age of 65 and spent his retirement years in New Jersey with his wife Fanny. He passed away in November of 1994 at the age of 87.
ORGANIZATION GOALS:

The Edward C. Picken Troy High School Athletic Hall of Fame was established in 1995 as a tribute to former Troy High School Coach and Teacher Edward C. Picken who committed and dedicated his forty year teaching career to the students and parents of the Troy High School community. The Hall of Fame has also been established to honor each year a representative number of athletes, coaches, and friends of Edward C. Picken who have attained a stature of excellence in achievement that reflects the high ideals and pursuit of excellenece that Mr. Picken instilled in each of his students. Proceeds from the dinner will be used to continue an annual award for an outstanding male and female student athlete graduating from Troy High School.

FOUNDER: JERRY C. CAMPANA
Current Officers:
2006-2007:
PRESIDENT: Robert "Rabbit" Riley
1st Vice President: Joseph P. "Joe" Caulfield
2nd Vice President: J. Frances "Fran" Cowan
Secretary: Radmilla "Mickey" Terry
Treasurer: Harvey Dickson
Sergeant-At-Arms Hubert Terry

PAST PRESIDENTS:
Jerry C. Campana - 1994-2001
Ralph F. Passonno Jr. - 2001-2003

Robert "Bobby" Weaver - 2003-2004

Clem Zotto - 2004-2005

Robert "Rabbit" Riley - 2005-2007

UPDATE:

*The Executive Commitee meets at 6:00 p.m. at the Troy ICC on the second Tuesday of each month. All are invited.

Homecoming Weekend begins Friday, October 5, 2007
2007 Induction/Reunion Meeting to be held at Troy ICC Friday, October 5th. at 6:00 p.m.

Wall of Fame Ceremony and Brunch at Troy High School Saturday, October 6th. at 11:30 a.m.

Homecoming football game: THS vs. at 3:00 p.m.


2005 Founder's Award

The first recepient of the Jerry C. Campana, Edard C. Picken Troy High School Athletic Hall of Fame Founder's Award is Morris Massry.

This prestigious award was graciously accepted by Mr. Massry on Saturday, April 30th, 2005. The award was presented by Daniel J. Hogarty with approximately 160 in attendance.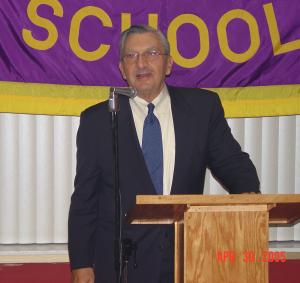 Morris Massry, first recepient of Founder's Award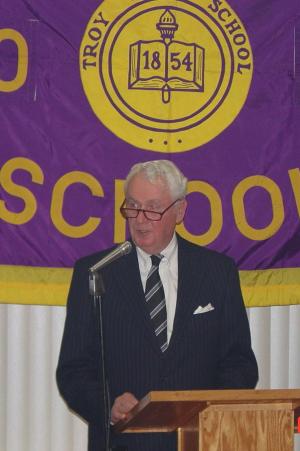 Dan Hogarty praises Morris Massry



Additional Photos: Please Click for Larger View

CRITERIA FOR EDWARD C. PICKEN TROY HIGH SCHOOL ATHLETIC HALL OF FAME FOUNDER'S AWARD

I. The Hall of Fame shall recognize an outstanding United States citizen who has made significant contributions to our community in the spirit of Coach/Teacher Edward C. Picken and Founder, Jerry C. Campana.

II. The Founder s Award was created to honor and recognize an individual who has given outstanding service to the Community. The award is reserved for that individual who has demonstrated that he/she memorializes, in his/her everyday life, the spirit of humanitarian achievement, charitable acts, kindness, fairness, honesty and integrity as exemplified by Edward C. Picken and Jerry C. Campana.

III. Nominees may represent and/or support local or regionalprograms but, the impact of his/her contributions should be found in Troy, New York or in immediate surrounding areas of the Capital Region.

Congratulations to the 2007 Hall of Fame Inductees!
Emil Schmidt,

1950s

Arno Reihs, 1959

1960s

John Baniac,
Dave Biggs,
Leonard Mortimer
1970s

Brian McGan


1980s

Scott Paul
Diane Wagner

1990s

Kathy McCann Baker

Kristin Bisceglia
Pat Case III
Robert Case
John Mulino
Lisa Rooney

C O A C H E S

Dave Levinstein
Sam Mennetti

F R I E N
D S

Wally Curly

Betsy Mitchell Savery, 1963

NOTE: HALL of FAME RINGS ARE NOW AVAILABLE.
Call Ralph F. Passonno Jr., '59 for details 1-800-332-7653.

Athletes, Coaches, and Friends inducted to date:
p - Deceased

Last Name
First Name
Surname
Class of:
Ammian
Harry A.
Mr.
1975
Ammian
Leo
Mr.
Anslow
Trisha
Ms.
Armlin
Anthony
Mr.
Armstrong
John
Mr.
Ashley
Perry
Mr.
1967
Baker
Christine
Ms.

Baniak

John.

Mr.

1963

Baranowski
Victor
Mr.
1976
Baranowski
William
Mr.
1958
Bartis
Dick
Mr.
Baumback
Fred
Mr.


Beaulac
Mark
Mr.
1976
Bell
Ray
Mr.
1964
Bennett
Lee
Mr.
1962
Berberich
Aileen
Ms.

Coach

Bertholf
Robert J.
Dr.
1957
Bestle
Frank
Mr.
1949
Bevevino
Dominic
Mr.
1950

Beveino




Dominic




Mr.




1975

Biggs




David




Mr.




1968

Bisceglia




Kristin




Miss




1994

Boland
Charles J.
Mr.

Coach

Boland
Stephen
Mr.
1978
Bongo
James
Mr.

Coach

Bonnier
Katie Eckles
Mrs.

1986

Bradley

Charles
Mr.

1941
Brigham
Bill
Mr.
1976
Brignola
Dominick E.
Mr.
1943
Bryce
D. Wallace
Mr.
1956

Burger




Jack




Mr.




Coach



Campana
Jerry
Mr.
1948
Campana, Founder & PP
John
Mr.
1978
Canfield
Jack
Mr.
1948
Canty
Sylvester
Mr.
1972
Cardish Jr.
Eugene
Mr.
1971
Carello
Sam
Mr.
Casale
Deana
Ms.
1989
Case (p)
Anthony
Mr.
1950
Case
Fred
Mr.
1961
Case
Frederick
Mr.
1972
Case
Patrick
Mr.
1946

Case III




Patrick J.




Mr.




1996

Case
Robert
Mr.
1998
Catherwood
Deanna Van Vranken
Mrs.
1993
Caulfield
Joseph
Mr.
1948
Cepiel
Ed
Mr.
Cioffi
Lawrence
Mr.
1939
Cioffi
Louis
Mr.
1962
Cohen
Bernie
Mr.
1946
Cohen
Lanny
Mr.
1975
Collins Sr. (p)
George
Mr.
Collins Sr.
William
Mr.
Collins
Veronica
Ms.
1993
Connell
Kevin
Mr.
1970
Cowan
Frances
Ms.
1947
Cox
Millisa
Ms.


Coyle
Kathie
Ms.
1986
Curley
Wally
Mr.
Friend
Cushman
Marcia Mulligan

Ms.



1987
DeBonis
Anthony
Mr.
1949
Deegan
William
Mr.
1944
DeGiorgio
Nicholas
Mr.
1941
DelVecchio
Gene
Mr.

Coach

Denio
Dom
Mr.
Friend
Dickson
Harvey
Mr.
1950
Dickson
John
Mr.
1972
DiGiulio
Christine Killeen
Ms.
Doodian

George




Mr.




1957



Doodian
Louis E.
Mr.
Drumluk
Jennifer Miller

Ms.



1993
Dwyer
Jamie Pullar
Ms.
1987
Edwards
Michael
Mr.
1949
Emery
Monique Hilton
Ms.
1990
Enfanto
Guy A.
Mr.
Friend
English
Burton
Mr.
1939
Evarts
Jack
Mr.
1949
Everton (p)

Rich
Mr.


Faber
Chris Melite
Ms.
1980
Falk
Nancy
Mrs.
1974
Faraci
John
Mr.
1959
Fish
Pamela Wilson
Ms.
1977
Fitch
Mr and Mrs Thomas
Mr., Mrs.

Friends

Fitzpatrick
Marion
Ms.

Friend

Ford
Jim
Mr.
1947
Fosset
Amy Sequeira
Ms.
1985
Foster
Robert
Mr.
1951
Foster
William
Mr.
1955
French
Michele Lamena
Ms.
1987
Fulkerson
Roger
Mr.
1963
Gamble
Abbie Pompey

Mr.


Gamble
Carl
Mr.
1969
Gardner
Dion
Mr.
1994
Geiger
Jay
Mr.
1990
Geiger
Joseph
Mr.

Coach

George
Sally
Ms.
Gibson
Cuemi
Mr.
1979
Gilmore
Laurie
Ms.
1977
Ginsburg
Arthur
Mr.
1049
Giordano
Philip J.
Mr.
1963

Gordon
Abe
Mr.
1929
Gordon
Richard

Mr.



1944
Griffis
John
Mr.
1951
Griffis
Jim
Mr.


Grosso
Jonathan
Mr.
1985
Guter
Jerry
Mr.
1967
Guter Jr.
Steve
Mr.
1964
Guter Sr.
Steve
Mr.
1937
Gutierrez
Eduardo

Mr.




Coach

Hammett
Willie
Mr.
1964
Harper
Wesley
Mr.
1937
Harrell
Diane
Ms.
1984
Harrell
William
Mr.
1947
Harrison
Earl
Mr.
1971
Harrison
Ken
Mr.
1969
Harrison
Marcel
Mr.
1990
Hauck
Charles E.
Mr.
1959
Hayner
Curtis
Mr.
1949
Hayner
Marvin
Mr.
1949
Hems
Donald
Mr.
1968
Hetman
Mike
Mr.
1966
Hines
Mary Lettko
Ms.
1977
Hoffsis
Robert
Mr.
1954
Holohan
Maureen
Ms.
1990
Hughes
Kenneth
Mr.
1946
Hughes
William
Mr.
1984
Jacobs
Chuck
Mr.
1941
Johnson
Dan
Mr.
1957
Johnson
Larry
Mr.
1949
Jones
Michele
Ms.
1990
Judge
Mary Ryan
Ms.
1984
Kazanjian
Andrea
Ms.
1998
Kehn
Alan
Mr.


Kehn
Brant
Mr.


Kingsley
Jennifer Fitch

Mrs.
1992
Klein
James
Mr.
1975
Kramer
Francis "Jake"
Mr.
1949
Kupic
Matt
Mr.
1958
Landry
Phil
Mr.
1975
LeBlanc

Dave




Mr.




1990

Leckonby
William
Mr.
1935
Lemke
Warren
Mr.
1942

Levinstein (p)




David E.




Prof.




Friend 1927



Locci
Chris
Mr.
1990

Long




Art




Mr.




1976

Love
Pam
Ms.
Coach
Mace Sr.
Frank
Mr.
Macutek
Joseph
Mr.
1987
Maguire
Michelle
Ms.
1999
Mahoney
Megan
Ms.


Mainville
Arnold
Mr.
1959
Marchese
Frank
Mr.
1945
Marchese Sr.
Louis
Mr.
1995
Mariano
Joseph
Mr.
1985
Martin
Ed
Mr.
1963
Maschewski
Kurt
Mr.
1958
Matthews
Sue Claydon
Ms.
1977
Mauriello
Sal
Mr.
1952
Maxwell
Sean
Mr.
1990
McCabe
John
Mr.
1957

McGan




Brian




Mr.




1977



Melite
Albert
Mr.
1948
Mikhiatarian
Harry
Mr.
1950
Millington
Thomas
Mr.
1985
Mizenko
Lynn Culucci
Ms.
1984
Mochri
Felice
Ms.


Mooradian (p)

Richard
Mr.
1940
Morse
Don
Mr.


Morse
Jack
Mr.


Mortimore
Leonard
Mr.
1968
Mose
Stephanie Hoenig
Ms.
1980
Mosseau
Leo
Mr.
1959
Mulinio
John
Mr.
1990
Mulligan
Mark
Mr.
1990
Murhpy
Jim
Mr.


Murphy
Richard
Mr.
1994
Murray
Anthony
Mr.
Murray
Darren
Mr.
1992
Muscatello
Joe
Mr.
1942
Muscatello
Lisa
Ms.
1986
Muthersbaugh
Beth Winhall

Mrs.


Myers
Barbara Anslow
Mrs.
1981
Nagengast
Joanna Pascarella
Ms.
1986
Nelson
Gloria Dickson
Ms.
1979
O'Brien
Al
Mr.
1942
O'Brien
Brendan
Mr.
1993
O'Brien
Shannon
Ms.
1989
O'Brien
Vincent
Mr.
1983
Oglesby
John Thompson
Dr.
1957
Osganian
George
Mr.
Osganian
Greg
Mr.
1999
Osganian
Richard
Mr.


Panza
Joe
Mr.


Paone
Tom
Mr.
1982

Parella




Emily




Ms.




1999



Pascarella
Anthony
Mr.
1957
Pascucci
Marcia
Ms.
1988
Passonno
John F.
Mr.
1960
Passonno
P. Shannon
Mr.
1964
Passonno Jr., Past President
Ralph F.
Mr.
1959
Paul
Scott
Mr.
1986
Peterson
Michael
Mr.
1979
Pettyway
James
Mr.
Phillips
Roosevelt
Mr.
1966
Pompey
Kenneth
Mr.
1983
Pompey
Kevin
Mr.
Pompey
Roy
Mr.
1966
Prendergast (p)

Dick
Mr.
1928
Qua
Bob
Mr.
1958
Rackley
Willie
Mr.
1967
Radz
Michael
Dr.
1958

Reihs




Arno




Mr.




1959

Reinhardt
Paul
Mr.
1964
Reith
Tony
Mr.


Reo
Bob
Mr.
1949

Reynolds




David Robert




Mr.




1963

Reynolds
Jerry
Mr.
1967
Richardson
Theresa Lamena
Ms.
1985
Richtol
Elise
Ms.
1981
Riegert (p)

Jack
Mr.


Riggins
Eric
Mr.
1982

Riley, Past Pres.



Robert "Rabbit"
Mr.
1964
Rogan
Paul
Mr.
1989
Rogan
Thomas
Mr.
1987
Rogers
Keith
Mr.
1987

Rooney

Lisa

Miss

1997

Rothenberg
Harvey
Mr.
1959
Ruff
Allison
Ms.
1991
Rumenapp
Amy Stufflebeam
Ms.
1989
Salo
Joe
Mr.
1944
Satterlee
Bryan
Mr.
1952

Savery

Betsy Mitchell

Mrs.


Friend 1963

Scattereggia
Nick
Mr.
1985
Schindler
The Hon. Thomas
Mr.
1963
Schlegel
Lawrence
Mr.

1963

Schmidt,




Emil




Mr.




1937



Schlegel Jr.
William
Mr.
1970
Schneider
Paul
Mr.
1977
Schnellbaecher
William
Mr.
Coach
Schultz
Harvey F.
Mr.
1942
Seibert
Cap
Mr.
1944
Serian
Rich
Mr.
1971
Shaughnessy
Ann
Ms.
Sliter
David
Mr.
1958
Smith
Bill
Mr.


Smith
Jennifer L.
Ms.
1993
Speidel
Richard
Mr.
1947
Stone
Denison J.
Mr.
1956
Stone
John
Mr.
1960

STROSBERG, M.D.




James




Dr.




1959



Styczynski
Roger
Mr.
Sullivan
Richard
Mr.
1961
Tangredi
Charles
Mr.
1952
Tangredi Jr.
Charles
Mr.
1985
Tashjian
George
Mr.
1966

Teal




Howard




Mr.




1960



Terry
Hubert
Mr.
1965
Terry
Mickey Radmilla

Mr.


Testo
James
Mr.
1976
Testo
Ted
Mr.
1946
Tomiak
Matthew
Mr.
Torncello
Ginny Griner
Ms.
1981
Tremblay
Stefanie
Ms.

Tutunjian (p)




Henry




Mr.




1945



Tyson
Jennifer
Ms.
Van Dyke
Myron
Mr.
1957
Vartigian
Dan
Mr.
1984
Venson
Fred
Mr.
1970
Verillo
Edward
Mr.
1944
Vinikoff
Harold
Mr.
1947
Vinikoff
Rich
Mr.
1977
Wagar
Mara
Ms.
1980

Wagner

Diane McKeon

Ms.

1987

Walker
Charles
Mr.
1986
Walther Jr.
John
Mr.
1945
Walther (p)
William "Bud"
Mr.
Waugh
Leslie
Mr.
Weaver
Past Pres.

Robert
Mr.

COACH

Whalen
Elizabeth Fitch

Mrs.
1992
Whaley
John J.
Mr.
1959
Wilcove
Edward
Mr.
1959
Will
Arnie
Mr.
1971

Wilson




John




Mr.




Coach



Wood
Bob
Mr.
1965
York
Jerome "Jeff"
Mr.
1984
Zapp
Cliff
Mr.
Zotto
Past Pres.

Clem
Mr.

Coach